---
Ingredients for servings: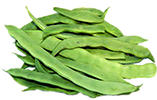 2 Cups white rice

4 Cups chicken stock or water

1 Teaspoon salt

2 Chicken bouillon cubes

5 Tablespoons oil

2 Teaspoons color* or turmeric

1½ Cups fresh peas

1½ Cups minced scallion

1 Cup diced onion

2 Tablespoons minced garlic

2 Cups diced carrot, ¼-inch dice

2 Cups diced green beans, ¼-inch dice

½ Teaspoon ground cumin*

1 Whole raw boneless chicken breast, diced (about 2 cups)

2 Chorizos, sliced ¼-inch thick (about 1½ cups)

¼ Pound diced ham, ¼-inch dice

1½ Pounds shrimp, cut in ½-inch chunks if too large

4 Tablespoons chopped parsley
---
Instructions:
In a medium pot over medium heat, place the rice, chicken stock, salt, bouillon cube, 2 tablespoons of oil, and 1 teaspoon of color*. Bring to a boil, reduce the heat to medium-low and simmer for 10 minutes, or until you see the rice very close to the surface of the water. Add the peas, cover and reduce the heat to low. Cook for 15 minutes and set aside.

In a large sauté pan over medium heat, place the remaining 3 tablespoons of oil. Add the onions and garlic, and sauté for 5 minutes. Add the carrots, green beans, the remaining bouillon cube and 1 teaspoon of color, and the cumin*, and cook for 10 minutes more. Next add the chicken and chorizo; stir, cover and cook for 5 minutes. Uncover the pot and add the ham and shrimp; stir and sauté for 5 minutes more.

Stir this mixture into the rice, and continue to cook over low heat for 10 minutes.

Add the parsley and serve.
---
---
---
---
---